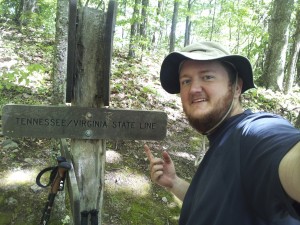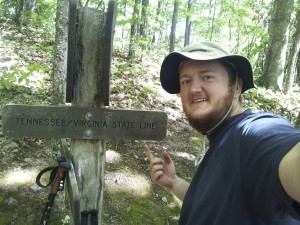 I don't think I will update with such long journal posts anymore, it just doesn't seem feasible. Instead, I will try and make shorter posts more frequently. Someday, I guess I will transcribe it all, but I do not have the time for that on the rare occasion I find a computer.
I am in Damascus, VA for Trail Days, the largest festival on the trail. A lot of people come and swarm the tiny town for a weekend, with several thousand descending upon the town with only 900 residents.
I was in town last weekend having hiked North to Damascus, but with Trail Days coming up so soon, rather than stay for a week and spend too much money, I had another idea. After running into Maps and DR on Saturday night who finally made it to town, we decided to get a shuttle north a ways and hike back down south. Four of us, me, Smitter, Maps, and DR got a ride for $10 each up to Fox Creek at VA 603 mile 507 on the trail and hiked back 41 miles.
Aside from the constant rain, the trail was nice. We first hiked through the Grayson Highlands where wild ponies run along the trail and try to steal your food. After was Mt. Rogers which was an easy southbound hike, because the trail was mostly downhill this direction. Shortly after, the AT crosses the Virginia Creeper Trail, a really nice bike path following a river on a old railroad bed. There are lots of cool bridges and the trail crosses the river many, many times.
I haven't been able to upload photos of this section yet, but will when I can.