After my last day of work, I drove out to Austin to see Amanda again. It was pretty fun, Austin is a great town. We went out to eat a couple times, going to Trudy's and BJ's Brewhouse. Trudy's is a good place and I had a pretty awesome stuffed avocado. It is a fried avocado stuffed with chicken and peppers and who knows what else. BJ's is a good place for deep dish pizza, but a little on the pricey side.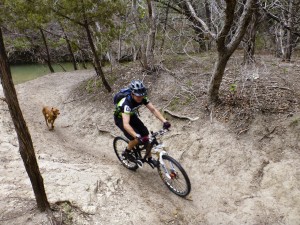 While there, we drove out to Cabela's so I could get a few more needed things for my trip, mostly clothes and a pair of rain pants. I decided to go with a pair of Frogg Toggs after hearing good things on the Whiteblaze backpacking forums. They were only $20 which was a great surprise, I was expecting about $50-100. The rain pants are said to be waterproof and breathable, but don't feel like it, instead they feel like some kind of odd paper. I hope they will work out, but mostly I hope that it doesn't rain much. Rainy hiking sucks.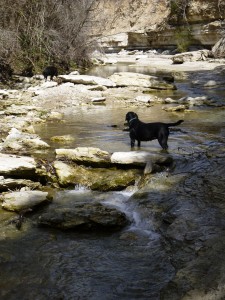 We also went out to the Alamo Drafthouse to get dinner and see the movie Rampart. It was different kind of bad cop movie than most, but worth watching. Pretty intense at parts.
On Sunday, we went out to Walnut Creek Park again. It's a nice park with mountain bike trails, where dogs can be off leash the whole time. Giant Bikes had a demo day that morning, but we missed it.