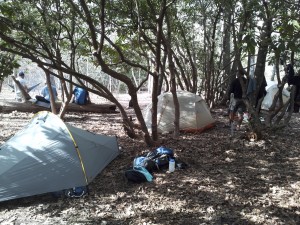 Nice hiking day. Good weather, not too hot, but storms will probably be coming in the next couple of days. The trails weren't bad except for a couple miles of rocks at the start. Those seem to be going by a little easier.
Hiked up Standing Indian Mountain (5498ft), the first mountain over 5000ft so far. It was actually a fairly easy climb up. Nice and gradual. The last sign I saw before it said "more difficult" which is much easier than the extremely strenuous trails in Georgia.
The water here is a little far off, about 1/2 mile, but it is a fairly easy walk. Passed by the Chunky Gal Trail earlier, had a chuckle and took a pic.
At Beech Gap we all set our tents up under a nice little grove of trees and bushes. I was told the green leafy ones are Mountain Laurels. It is pretty neat being in here, the bushes help block wind and the trees should help hold in some heat, because it is a clear night. On clear nights, things cool down faster with no clouds overhead to stop the heat from radiating away. Tree cover reduces this.
I am starting to feel the increased appetite I have heard of. Ate poptarts for breakfastm 2 Clif bars while hiking, and the usual Ramen, tuna, and crackers for dinner, but was still hungry. Dave was nice enough to give me a chicken and noodles Mountain House meal, that I also ate. After a couple hours, I can definitely go for more. I guess I have to start carrying more food per day and also cover more miles so I can resupply more often before I carry too much.
I am looking forward to a buffet in town, probably Shoney's or Pizza Hut or both. Aiming for Big Spring Shelter tomorrow, should break another milestone – 100 miles.