Finally got an easy day, only 2 miles. Woke up late as usual about 10am and was instantly covered with biting gnats once again. Putting up wet gear from the storms and getting water while swatting bugs is very frustrating and demoralizing. Bug spray does not work in the least.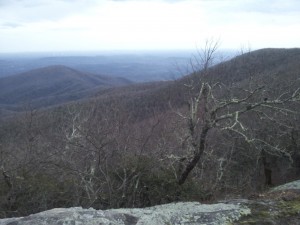 I hiked on and found some trail magic. Jeff and Bill with Albert and his dog Champ were cooking burgers for hikers at Tray Mountain Gap. I was pretty hungry after not eating much and ate three large burgers and two Mountain Dews. I was great and pretty much turned my day around.
I hiked up Tray Mountain, which is pretty steep and got to the shelter. It is pretty nice compared to some. I hear it has mice though, so it will be my first mouse experience.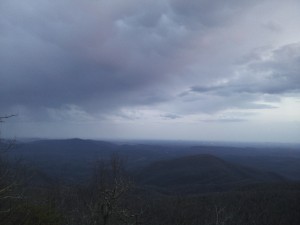 I've been able to hang around with Slim, Jason, and Shiann who caught up to me today. It's been a good day and a nice break that I have been wanting. The A-Team; Valerie, her husband Troy, son Samson, and father the Hiking Viking, a 75 year old, got back on the trail today after a night off in Helen, GA, and are camped nearby. They are nice people from central Florida.
Got to see a wonderful sunset right over the privy tonight. A poop with a view. Tomorrow I think I will aim either for the next shelter or a camp shortly after so I can be in Hiawassee on Sunday.