Creeper Trail Waterfall
Got to Waynesboro, VA today and have access to a pc so photos are going up.
Riff Raff Wedding
I hiked into Damascas southbound after taking a shuttle north to Fox Creek with Maps, DR, and Smitter. The Greyson Highlands were pretty awesome with wild ponies that followed us around and tried to take out food.
Trail Days back in May was fun with lots of hikers and other people. Tent City was the best, with lots of camping. I set up in the woods near the bonfire area. Camp Riff Raff, one of the largest groups, even had a wedding in the woods, and a bluegrass band play afterwards.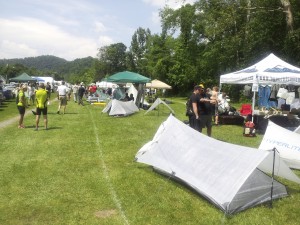 Trail Days
At Trail Days, I met AWOL who had a booth in the vendor area. He is the author of my guidebook, The AT Guide. I also met a guy planning to ride the Great Divide Mountain Bike Route on a unicycle through the mountains from Canada to Mexico.[gallery link="file" columns="5" orderby="post_date"]